What body shape are you?
28 April 2020 | Admin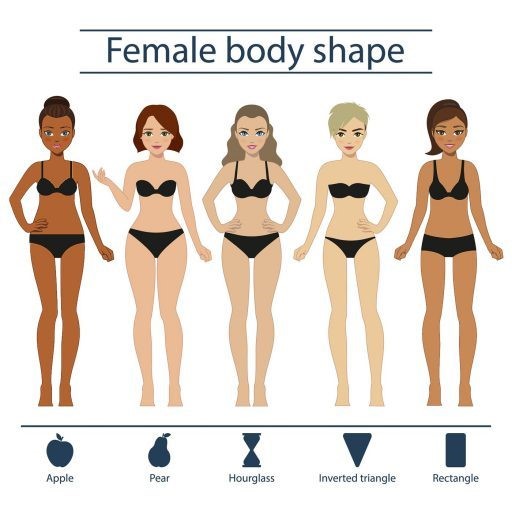 One of the key secrets to dressing stylish and chic is knowing your body shape. Body shape is your outline of your body, from the front facing. This is known as your silhouette. Your shape is determined based on the differences between shoulders (not bust), waist and hips/upper thigh. It is important to note that it does not take into consideration your upper arms, your knees or calves, or your body proportions, whether you are petite or tall, the roundness or flatness of your bottom or all the other body variations.
It has been said that the foundation of great style and effortless elegance is establishing your body shape so that your style is aesthetically pleasing and balanced.
Although, here at JJF we also believe that personality, colour and preference determines great style, in this piece we will share with you how to establish your body shape with outfits to match.
There are five main body shapes: Apple, pear, hourglass, inverted triangle and rectangle.
There is a simple and easy tool you can use online to figure out your shape. All you need is a tape measure then head over to Calculator.net to access the online body shape calculator: https://www.calculator.net/body-type-calculator.html
There are some great benefits to knowing your shape, not only will it help you buy better fitting clothes, you will know what suits you and your confidence will grow. Not knowing your shape, can be problematic for example, if you are wearing the wrong shape of clothing for your body shape, you could be detracting the eye from your best area while attracting the eye towards your widest area.
Here are some style ideas from JJF to style your shape.
Apple shapes, which tend to have a slider midriff suit Tunic Style Dresses
Whereas a pear shape tend to be wider at the hips suit an A-line style dress. Pear shapes suit a basic capped sleeve T-Shirt.
An Hourglass shape benefits from a fitted shift dress.
An inverted triangle body looks great in a waterfall style jacket.
A rectangle body shape can rock the wide leg trouser
We would love to hear from you! Email us at office@jjfashions.co.uk and tell us your body shape and what item of clothing you purchased from JJF! Feel free to send in your photo to have the opportunity to feature on our Instagram Page or post a picture yourself using the hashtag #jjfstyleandchic #iamwearingjjf