At a Pop-Up Clothing Shop you will find a fantastic range of Clothing including Jumpers, Trousers, Skirts, Blouses and Cardigans, in comfortable easy to wear styles in easy-care, high-quality fabrics, that are machine washable and many with no ironing required, we also have a range of Underwear including Pants, Vests and Pull-On Bras and a selection of Nightwear including Cotton Rich Nightdresses, Jersey Nightdresses and Bedjackets, also in our range you will find a selection of Slippers including Velcro Fastening Slippers and a selection of Sockshop Gentle Grip Non-Elastic Ankle Socks.
The Pop-Up Clothing Shop offers a shop like experience with great personal service in the comfort of your own home.
We try were possible to buy clothing made in the UK to support the UK manufacturing industry.
We pride ourselves on our excellent customer care. Please don't hesitate to GET IN TOUCH if you would like to know more about our Pop-Up Clothing Shop or anything else! We'd love to help.
What happens at a Pop-Up Clothing Shop?
Two weeks before we arrive we will email or post you a Pop-Up Clothing Shop Poster for your residents noticeboard or you can download the poster here now DOWNLOAD POSTER HERE and you can also download and print off our Current Collection Catalogue for your residents DOWNLOAD CURRENT CATALOGUE HERE.
On the day we will arrive 30 minutes before the start time to set up. We usually display the clothing on Rails and use a Table to display our smaller items on, including a display of jewellery.
Residents can then come and take a look around everything, we will be on hand to help with selections and answer any questions they have. Your residents are also welcome to try on the clothing before they buy.
What if my size is out of stock?
We will be able to tell you if we can order the item for you and all special orders will be delivered to you FREE.
We accept Cash, Cheques, Credit and Debit Cards.
What time of day can it be held?
We usually offer Morning or Afternoon Pop-Up Clothing Shops, but we are very flexible and can arrange a mutually convenient time to suit you and your residents.
We usually visit homes 4 times a year, or if you wish at the change of seasons for example with our Spring/Summer Collection or our Autumn/Winter Collection.
You can arrange with us how many times a year you would like a Pop-Up Clothing Shop that is convenient to you.
Are Pop-Up Clothing Shops a free activity?
Yes, this is a free service we offer to everyone.
How Do You Book A Pop-Up Clothing Shop?
You can ring Catherine on 07843 812555 who will book your Pop-Up Clothing Shop for you.
How do people get in touch with us?
You can telephone us on 07843 812555
Or email us at office@jjfashions.co.uk
Or find out more about JJ Fashions on
You can find us on Facebook and Instagram
Download of a Pop-Up-Clothing Shop Poster - (1 Page)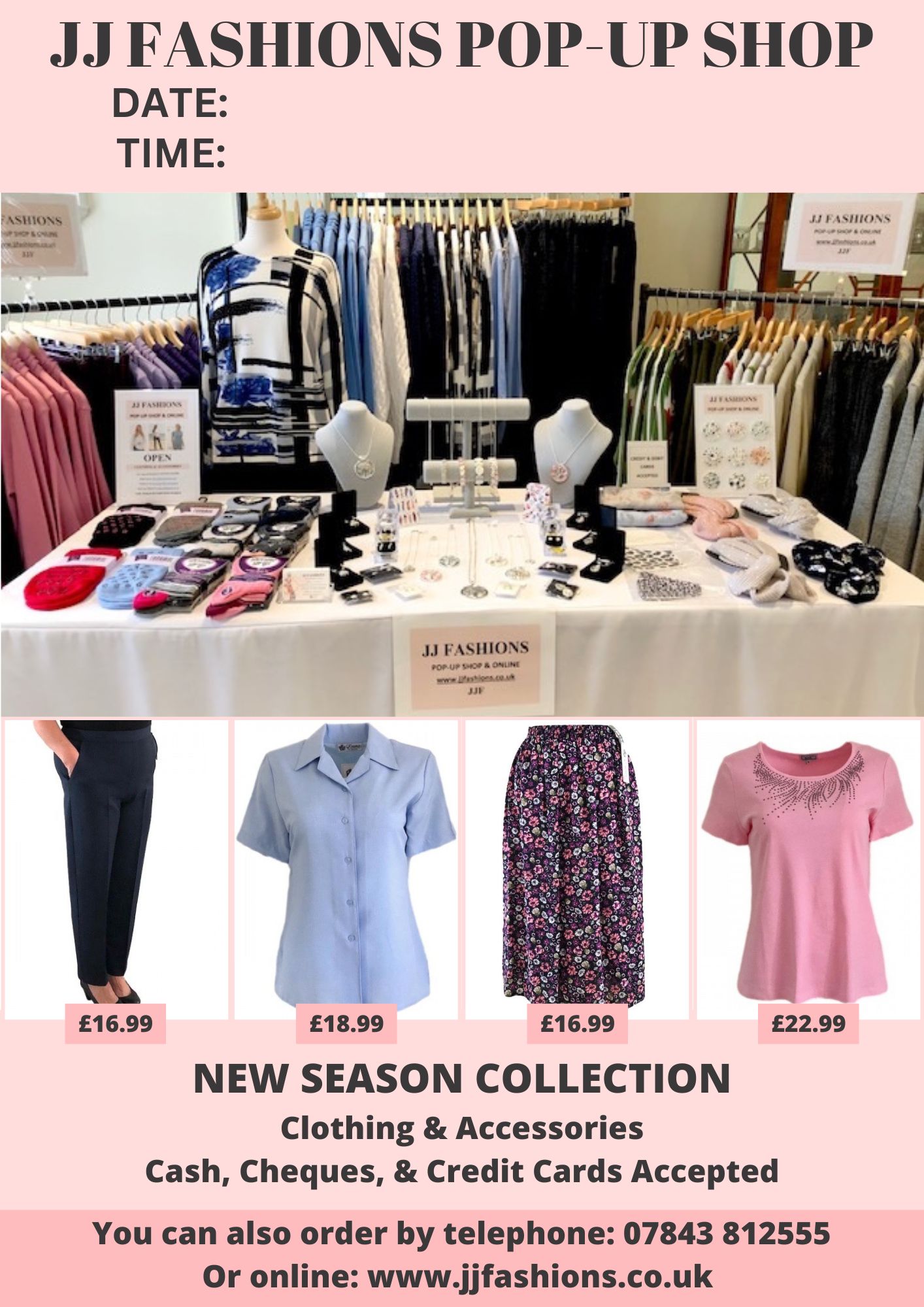 Download a JJ Fashions Clothing Poster for your residents noticeboard - (1 Page)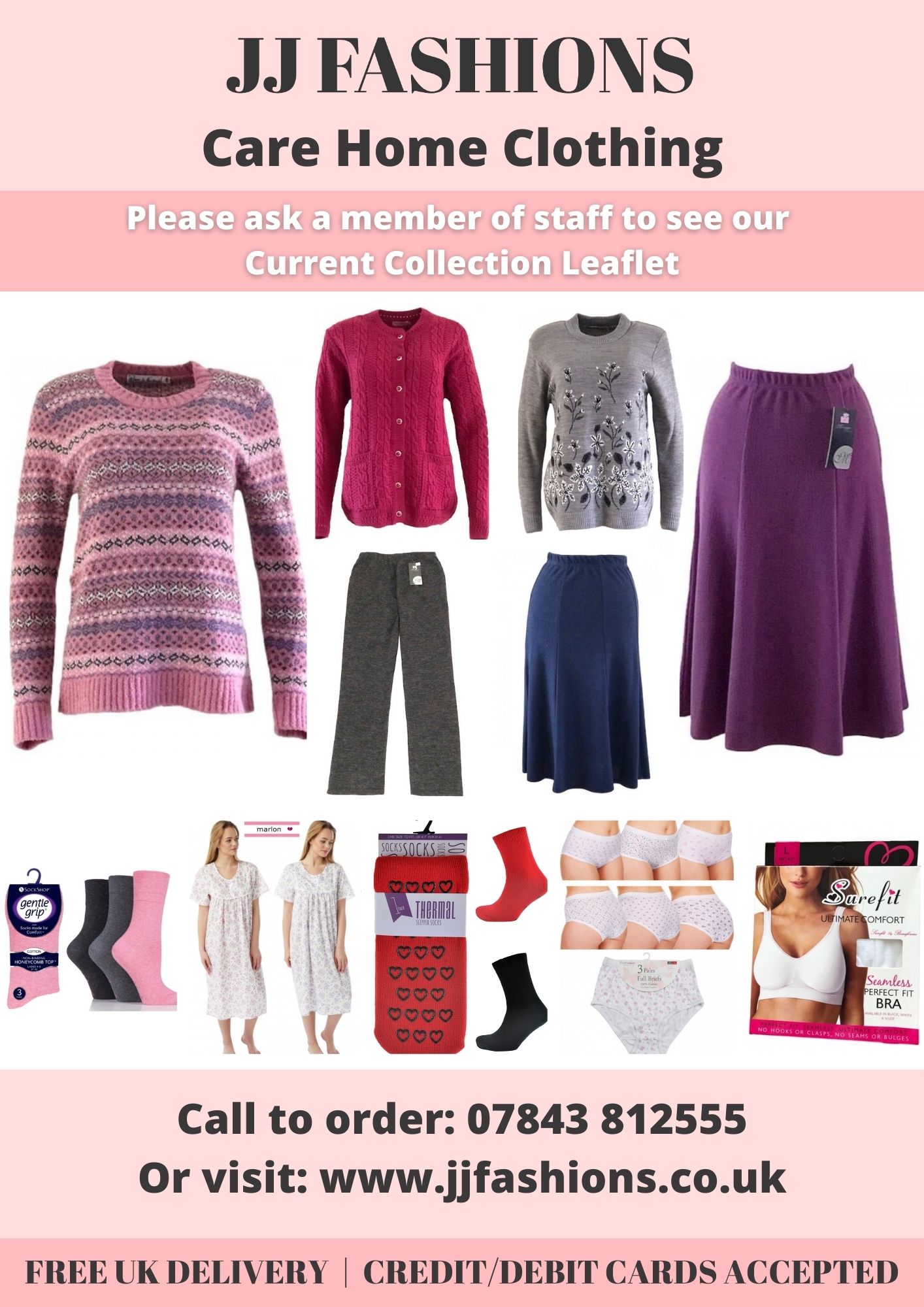 Download of our Current Season Collection Catalogue - (4 Pages)
More photos of our Pop-Up Clothing Shop