Care Home Clothing Guide List
FREE UK DELIVERY ON ALL ORDERS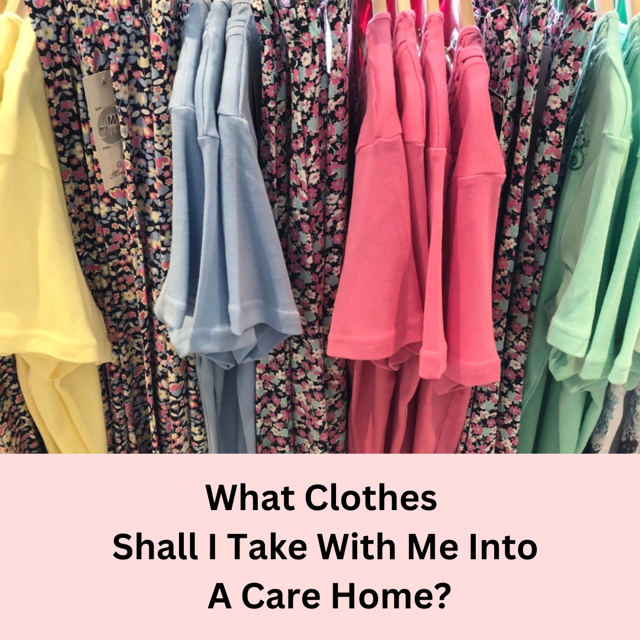 Moving into a residential home or nursing home can be daunting and deciding what to take with you can be a challenge and deciding what to pack can prove to be particularly stressful.
With over 20 years of experience, expertise and knowledge in the supply of clothing to residents in Care Homes, we know that mature and elderly ladies looking for Care Home Clothing love their clothes and appreciate quality products and a friendly easy to use service when purchasing and so we pride ourselves on providing this to our customers.
Our experienced stylists are constantly on the lookout for the most stylish pieces of Care Home Clothing, comfortable easy to wear styles in easy care high quality fabrics, that are machine washable and many with no ironing required.
Where possible we aim to stock clothing made in the UK to support the UK Manufacturing Industry.
To help take some of the pressure off on deciding what clothing to take into a Care Home we have compiled a detailed Care Home Clothing Guide List of suggestions you may find useful.
And if you have any query's or questions about anything relating to Care Home Clothing please don't hesitate to ring us, we are always happy to help,
Just call Catherine on 07843 812555
Care Home Clothing Guide List
3 Pairs Trousers

3 Skirts

3 Cardigans

3 Jumpers

3 Tops/T-Shirts

2

x Packs of Three Briefs

2 x Packs of Three Pairs Socks

2 x Pack of Three Knee Highs

3 Vests

3 Nightdresses/Pyjamas

1 Pair of Slippers

2 Outfits for party's and special events.

Accessories (scarves and jewellery)
Free Download of our Care Home Clothing Guide List - (1 page) - DOWNLOAD HERE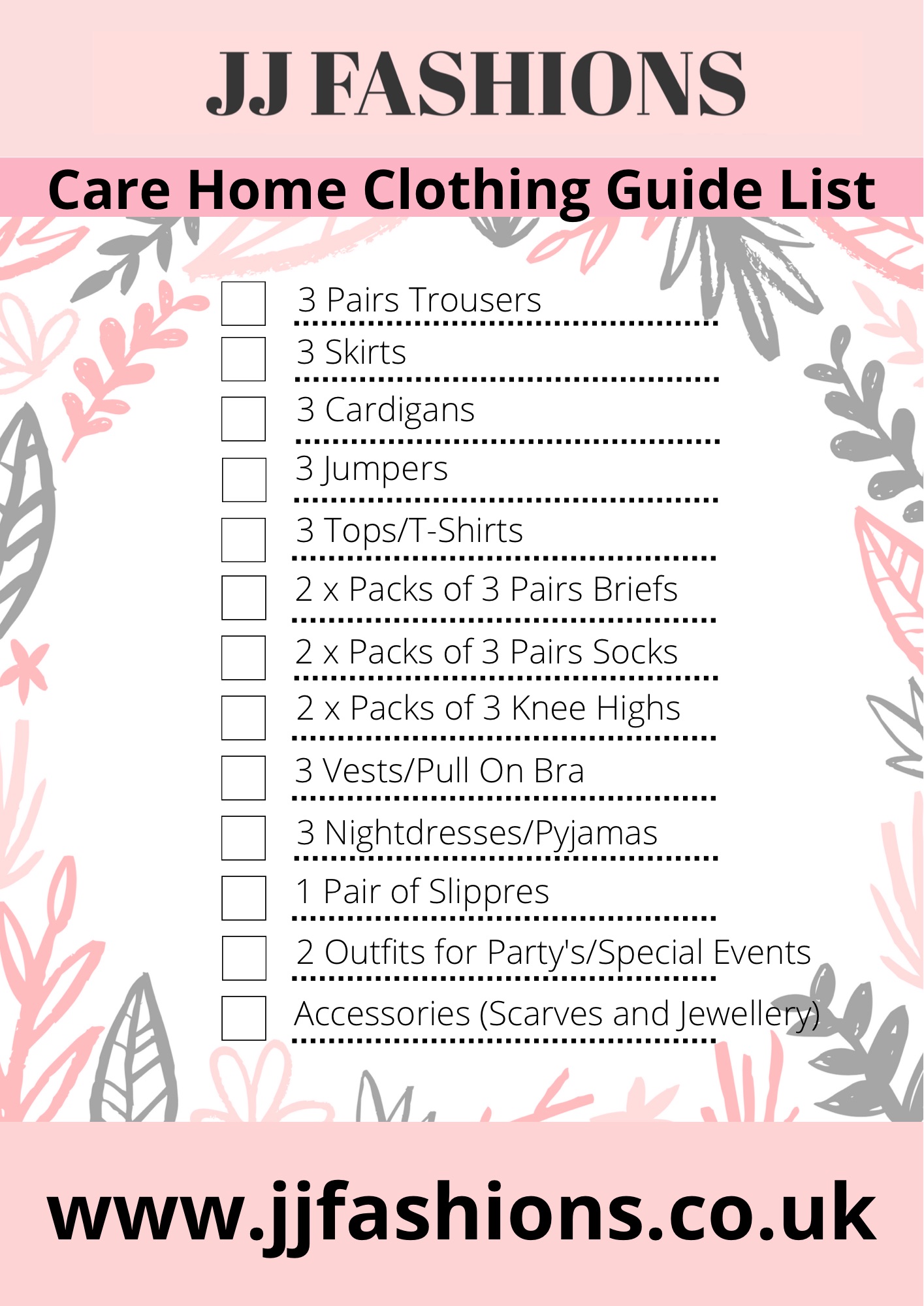 Free Download of our Current Season Collection Catalogue - (4 Pages) - DOWNLOAD HERE
On our Care Home Clothing Guide List we have recommended clothes for day and night, activities and events.
Ideally, clothes should be comfortable, easy to take on and off and remember that the clothes also need to withstand frequent washing and drying.
Accessories can help you keep your identity and stay in control of your own personal style.
We can post your order direct to you in your Care Home or if you are buying for a relative, friend or resident in a Care Home we can post direct to them. Don't forget we offer FREE UK DELIVERY
Helpful Tip:
Make sure every item is labelled to avoid any mix-ups at the care home, particularly if the person moving is living with dementia as they may forget what items belong to them.
Please find below our Care Home Clothing Collection for you to browse.
classic cardigans
classic jumpers
classic skirts
classic trousers
classic tops
classic short sleeve tops
classic dresses
classic t-shirts
classic underwear and nightwear
classic ladies socks and hosiery
classic slippers
classic men's trousers
classic men's cardigans
classic men's socks and underwear
We hope you find our Care Home Clothing Guide List useful and enjoy browsing our Care Home Clothing Collection.
OUR TOP PICKS FOR YOU
FREE UK DELIVERY ON ALL ORDERS
JJ Fashions are stockists of fifty plus clothing and Care Home Clothing including Classic Trousers, Classic Skirts, Classic Tops and Classic Dresses.
In our online shop you'll find a fantastic range of high quality, stylish fifty plus clothing and Care Home Clothing from your favourite brands including Mudflower, Saloos, Text, Reflect and Nina Murati, see the brands we stock.
We pride ourselves on our excellent customer care please don't hesitate to get in touch with any queries you have about your order or for advice on sizing or if you would like some styling advice. We'd love to help.
If you love Fashion and would like to keep up to date with the latest trends including the latest style updates on fifty plus clothing and Care Home Clothing you can follow us on Facebook and Instagram or read our fantastic fashion blog.
You are invited to sign up for our free newsletter which allows you to receive a monthly newsletter as well as periodic offers related to our newest products.
SIGN UP FOR OUR NEWSLETTER HERE